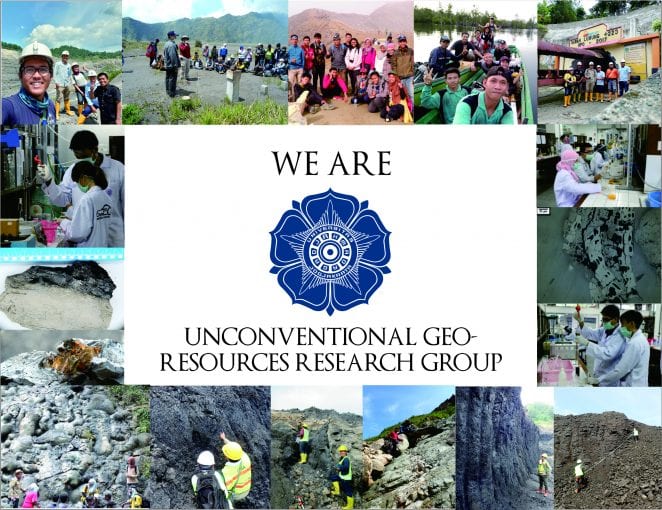 Unconventional Geo-Resources Research Group (UGRG) is a functional container as an organization that conducts and manages research/research of Faculty of Engineering UGM according to SK Dean of Faculty of Engineering UGM number 106. P/H 1.17/KP/2019 in the field of Non-conventional Earth resources.
There are three main working groups in the organization of UGRG, namely mineral Resource Commission, energy resource, and environment. UGRG's research focuses include the exploration process, exploitation, and the extraction of non-conventional Earth resources.
As an effort Berperan-serta carry out the task of TriDharma College which includes education, research, and devotion to the community in a balanced manner, research conducted by the researchers incorporated in UGRG is based on the need to support and achieve the goals of sustainable development of Indonesia nation. The studies recommended to be the focus of research on Non-conventional Earth resources that have been and will be implemented by UGRG focused on 3 major studies supported by related laboratories, namely:
Energy fields, referring to oil and gas resources (non-conventional hydrocarbons) obtained from low Permeoar reservocatives (shale oil, shale gas, tightsand gas, coal bed methane, and methane hydrate).
The field of mineral resources, referring to certain minerals that are still rarely exploited and its extraction techniques. The study of non-conventional mineral resources currently a study center of studies includes: primary lead, low concentration of mineral ore (nickel, lithium, etc.), Rare earth Element (REE), mineral clay, and the use of biomining extraction techniques.
Environmental field, referring to the sustainability aspect for environmental balance protection. In this field the research that is developed is a wide reduction of areas contaminated by certain compounds either naturally or due to the process of exploitation of resources using a friendly approach with nature (handling rich areas of Florida, strontium, and tamarind water mines).
The scope of study from the center of this study can be described through the following chart.

Faculty of Engineering UGM in particular UGRG always strives to prioritize research resources that exist on certain themes and studies that can help overcome current and global problems of the nation and in the future. These studies have been and will be conducted by engaging in ongoing disciplines and working together with internal and foreign institutions, governments, and related industries. The results of these studies have been applied to solve problems in the community either directly or indirectly. Further, UGRG is very open for cooperation in various forms so that it can be beneficial to more people, nations and countries. Research topics, time, and research partners that have been conducted by UGRG UGM researcher team in more detail can be accessed on the Research Topics
The publication of the research results is categorized as a scientific publication on national and international journals, as well as dissemination to national and international seminars accessible on the Publication