Considered one of the oldest universities in Indonesia, Universitas Gadjah Mada serves as a pillar of educational awakening in Indonesia, and purports to be a defender and disseminator of Pancasila.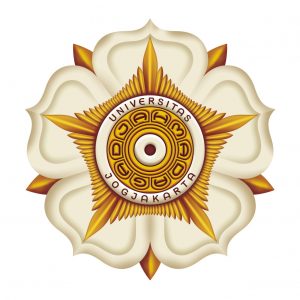 Universitas Gadjah Mada (UGM) is an Indonesian public ivy league research university located in Yogyakarta, Indonesia, founded on December 19, 1949. UGM was born out of the revolutionary struggle for independence of the Indonesian nation. It is the oldest and largest institution of higher learning in Indonesia. Established by the name of "Universitas Gadjah Mada", this university is the amalgamation of several higher education institutions that had been established previously, including Gadjah Mada Higher Education Centre, Engineering College, and Politics Academy in Yogyakarta, Lawyers Education Centre in Solo, and Pre-clinical Unit of Medical University in Klaten, all endorsed by Government Regulation No 23. Year 1949 regarding Regulations on Amalgamation of Higher Education Institutions into University. The name of Gadjah Mada also had a special meaning, containing the spirit and good example of Prime Minister Gadjah Mada of the Majapahit Empire that was able to unify the Nusantara archipelago. This was interpreted into the formulation of identity of UGM as a national university, spirit of existence of the Republic of Indonesia, university of Pancasila, university of the people, and centre of culture university. Located in Yogyakarta, Indonesia, the 360 acre university comprises 18 faculties, 68 undergraduate study programs, 23 diploma study programs, 104 master and specialist study program, and 43 Doctorate study programs. It has approximately 55,000 students, 1,187 foreign students, and 2,500 faculty members currently (more about Universitas Gadjah Mada)
As came to be known as the "Populist University", "University of Pancasila", and "University of Struggles", UGM has started to deploy its students to do Community Service Program two years after the university's establishment in 1949. In a decade period, no less than 1218 students have been commissioned, resulting in 109 newly established high schools in areas outside of Java. Entering the second millennium, UGM shifted SCS's development paradigm into research-empowerment paradigm to contextualize the program as a response to the continuous globalization pressures on a society that was economically weak. Thus, in 2006, the program name was changed to Student Community Services – Community Empowerment Learning (SCS-CEL). Since then, SCS-CEL has been a dynamic and responsive national initiative program encouraging sustainable independence and welfare for the Indonesian grassroots levels in nearly all 34 provinces.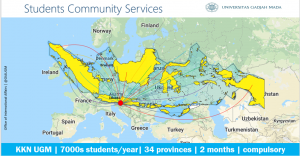 The program is now made for Indonesian students and foreigners, with a total of 32 universities from 15 countries already having participation, namely: Norway, South Korea, Japan, Australia, Austria, France, Germany, etc. Both Indonesian and international students collaborate in putting together effective and applicable programs which derived from several focuses of interest, such as: improving education in remote areas, community-based health policy, women empowerment, disaster early warning system and mitigation, cultural and local wisdom-based natural resources conservation, cultural-based conflict resolution, rural governance and administration, enhancement of law and political awareness, small and medium enterprises development, and sustainable agricultural production. In 2016 alone, SCS- CEL program was implemented in 33 provinces, 108 districts, 179 sub-districts, and 276 villages. In total since its beginning, the SCS-CEL program has dispatched more than 200.000 students to all provinces in Indonesia (more about Student Community Service UGM)